DES is a leading company in supplying rolling stock, heavy industry, military and fire protective equipments.

DES-25B family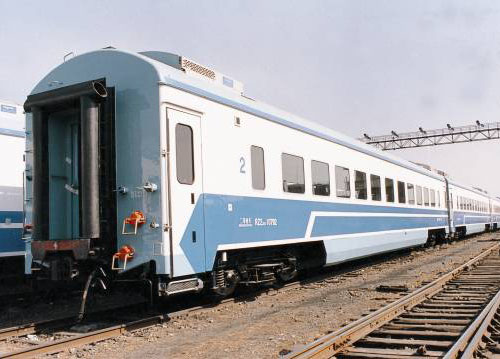 The first DES-25B coach was designed for mass transportation in 1992. They are able to running up to 140 km/h and most of them use normally ventilating. The life time is 30 years.
The coaches adopt 209P or 209T bogies, disc brake, type J brake shoe adjustor, 104 integrated electro-pneumatic brake units, anti-skid device, etc. Power supply is 48V battery and axle driven 5 kW generators. There are commodious berths, seats and stylish ceiling lights inside coaches so that people feel comfortable and cheer in journey.
| | |
| --- | --- |
| Seating capacity | |
| Semi-cushioned seat | 128/118 |
| Double deck | 174 |
| Cushioned seat | 80 |
| Double deck | 108 |
| Semi-cushioned berth sleeping | 66/44/80 |
| Cushioned berth sleeping | 36/18/50 |
| Dining car | 48 |
| Double deck | 72 |
| Design speed | 140 km/h |
| Length | 25,500 mm |
| Width | 3,105 mm |
| Height | 4,433 mm |
| Double deck | 4,750 mm |
| Min. curve negotiation radius | 145 m |