DES is a leading company in supplying rolling stock, heavy industry, military and fire protective equipments.

HOME |

Machinery
Introduction of Oil Film Bearing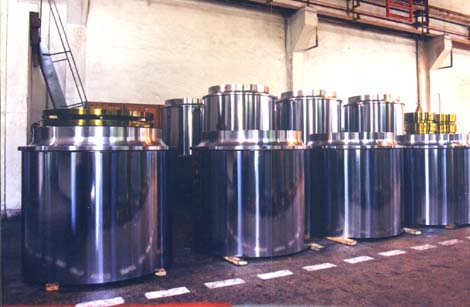 A. DES is the 'sole' high & new technology enterprise in China which can independently designing and manufacturing various modern large type rolling mill serialized Oil Film Bearing. At present time had designed & manufactured 160-2000 mm pure dynamic and static-dynamic pressure Oil Film Bearing for more than 100 varieties, many thousands sets (pcs), domestic market possession is 95%, annual production capacity by hundreds of sets (pcs).

B. At present world-wide rolling mill oil film bearing varieties DES is the most completed manufacturer, its 'Roll Oil Film Bearing standard" had been acknowledged as National Standard, and the "Taizong" marked ZYC 100-1800 Roll Oil Film Bearing Series Products got the National Quality Product Gold Prize.

C. In1985-1999, DES is the main cooperated partner of MORGAN Co., America, common signed the related technology transfer and cooperative manufacturing contract, cooperative manufactured 1700 mm cold continuous rolling mill, 2030 mm cold continuous rolling mill, 2050 mm hot continuous rolling mill etc. complete sets Oil Film Bearing.

D. High precision inner/outer circle grinder imported from Italy at present time is the world-wide only-one high precision Oil Film Bearing processing key machinery, product precision reach to ¦Ì class, and is the world highest level.

E. Various Oil Film Bearings manufactured by DES had been exported to Japan, Germany, South Africa, Kazakstan and so on.