DES is a leading company in supplying rolling stock, heavy industry, military and fire protective equipments.

HOME |

Machinery
Rolling Mill Reducer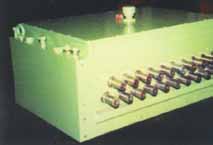 DES had serial-manufactured main drive gear-box, reducer, coupling etc. for large calibre tube mill, seamless tube rolling equipment, various tube leveller etc. hundreds set rolling equipment, herein; Angang 12-stand micro-stretch reducer drive gear-box Bao Steel ?180 seamless tube mill reducer, (5-29)-roll sheet leveler gear-distribution box, overall reflecting the reducer manufacturing comprehensive actual strength.
Main Parameter
name

drive ratio

output torque

51-89x3.5-22x18000
TZ355 12-stand Micro-stretch reducer

I=n fast =42.11
I=n slow=64.55

Max=2750kN/m
800-1600r.p.m
N=180kW

150-220x13.1-150x-3500-7500
TZC200 Conic Piercer

r=8.2456

Max=455634Nm
Max. axial force: ±252kWGD2=2461kgm2