DES is a leading company in supplying rolling stock, heavy industry, military and fire protective equipments.

HOME |

Inflatable Tents
Emergency Rescue Tent For 2008 Olympic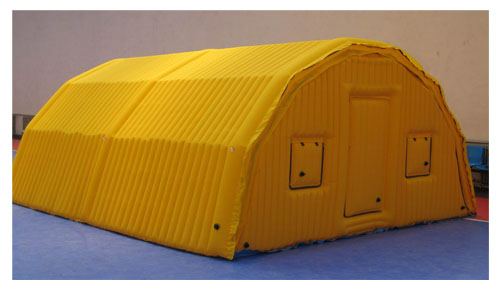 Integrated Structure Inflatable Tents
This type tents can be used in mobile command posts, field hospitals, high-cold land shelters, wild adventure accommodation, etc. The sidewalls and roof are jointed as an integrated part. It is modular designed for endless connection. High-frequency heat sealing processing technic is adopted for better water-proof and airtightness performance. The tent is made of high quality TPU fabric. Its temperature range is from -30℃-+65℃, wind resistance up to 8 scale

(62
~
74km/h
)
, hydro-static pressure ≥16 kpa, surface waterproof 100mm. It features for simple structure, rapid set-up/folding time, simple maintenance in field operations, higher
tear resistance, solid rigidity and stability, heat & water proof, ultraviolet ray protection, etc.