DES is a leading company in supplying rolling stock, heavy industry, military and fire protective equipments.

HOME |

Machinery
DES-WK8 Mine-use Excavator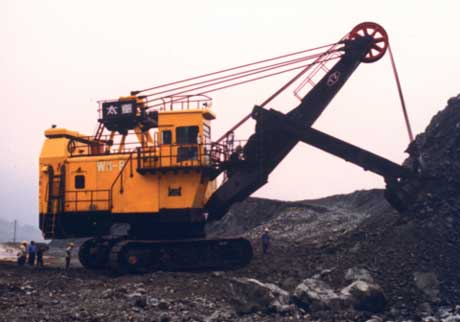 WK-8 Mine Use Excavator was provided with the international advanced level. WK-8 is suitable for annual capacity of 5 million tons mines, and also used for large Irrigation Engineering.
Technical Spec. of WK-8 Excavator

Nominal bucket volume

8m3

Average bearing pressure

245kPa

Bucket volume range

6.3-10m3

Main motor

500kW

Lifting speed

1m/s

Max. Excavating radius

17.4m

Pushing speed

0.55m/s

Max. Excavator height

12.7m

Traveling speed

0.7km/h

Max. Dumping radius

14.2m

Max. Lifting force

931kN

Max. Dumping height

8.05m

Max. Pushing force

412kN

Working weight

340t

Max. Crawling angle

13º

Theoretical Productivity

1100m3