DES is a leading company in supplying rolling stock, heavy industry, military and fire protective equipments.

HOME |

Machinery
DES-LG200 Tube Cold Rolling Mill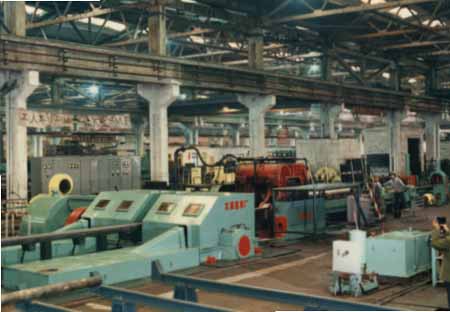 Tube Cold Rolling Mill mainly used for under normal temperature rolling non-ferrous metal, ferrous metal, stainless steel as well as high alloy steel and high precision thin wall tubes. DES had manufactured: LG-150、LG-120 and LG-200 Tube Cold Rolling Mills.
Parameter of Tube Cold Rolling Mill
Items

LG-120

LG-150

LG-200

Rolling Force

4000kN

5500kN

8000kN

Roll Diameter

550mm

690mm

780mm

Working stroke

803mm

905.56mm

1016.1mm

Roll swing angle

199.20°

196.31°

200.11°

Stroke frequency

80-120min-1

45-80min-1

45-80min-1

Type of dynamic balance

Perpendicular

level

level

Billet feed speed

2-20mm

2-20mm

2-15mm

Axial rolling force

400kN

550kN

800kN

Mandrel trolley pulling force (max.)

80kN

100kN

160kN

Load allowance of charging bed

20t

20t

20t

Billet dimension:
Max. O.D.
Min. O.D.
Max. wall thickness
Max. length


146mm
89mm
26mm
6.5m


171mm
108mm
28mm
6.5m


229mm
140mm
32mm
6.5m

Finish products:
Max. O.D.
Min. O.D.
Max. wall thickness
Min. wall thickness
Max. sizing length
Min. sizing length


120mm
20mm
16mm
1.4mm
10m
4m


150mm
100mm
18mm
3mm
10m
4m


200mm
125mm
22mm
3.5mm
10m
4m

Max. area reduction rate: Carbon steel, alloy steel, stainless steel etc.

70-80%

70-80%

70-80%

Max. wall-thickness reduction rate: carbon steel, alloy steel, stainless steel, etc.

60-70%

45-70%

45-70%

Max. O.D reduction rate

40mm

50mm

50mm

Max. I.D reduction rate

20mm

20mm

20mm

Max. billet weight

0.6t

0.6t

1t

Main motor

ZD161-1B
320kW

ZD161-1B
250kW

ZD163-1B
500kW

Weight of equipment (not including motor)

224t

250t

318t